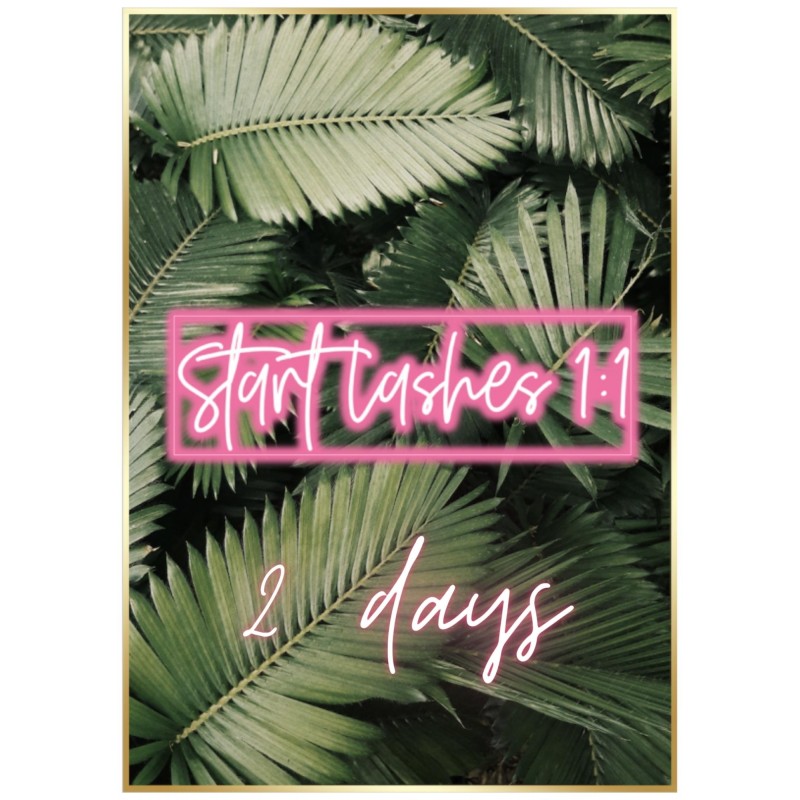  
EYELASH EXTENTION WITH 1:1 METHOD "START LASH"


DAY 1 (THEORY)

One-by-one eyelash extention is a first step if you want to become a lash stylist. During
training you will learn the one-by-one technique. These are individual eyelash extensions
that are placed one after the other on the natural eyelash. After completing your training,
you can offer eyelash extensions placement as an extra service in your existing salon. Course
is divided into theory and practice parts. During theory you will learn about: 
 • Overview of the essence of eyelash extensions
 • Discussion of the anatomical structure of the eye (eye area diseases, allergies)
 • Overview of the anatomical structure of eyelashes and the life cycle of natural eyelashes
 • Health and safety at work of a stylist
 • Preparation of the treatment bed
 • Discussion of appropriate lighting during surgery
 • Indications and contraindications for the procedure
 • Overview of the type of eyelashes - division into thickness, length and type of twist
 • Overview of the type of glue and working conditions
 • Characteristics of tools and products used during eyelash application (materials science)
 • Professional customer service (interviewing, customer card)
 • Proper selection of eyelashes, discussion of the shape of the eyes and the choice of styling
to suit the client's beauty
 • Techniques of eyelash application using the 1: 1 method
 • Overview of the procedure for eyelash preparation, eyelash application, eyelash filling,
eyelash care and removal
 • Discussing the most common mistakes made during or after the eyelash extension
treatment
 • Recommendations for the client after the eyelash extension treatment

DAY 2 (PRACTICAL PART)
 • Organization of a stylist's workplace
 • Learning to separate the eyelashes properly
 • Learning to work with tweezers
 • Preparation of natural eyelashes for the extension treatment
 • Methods of securing the lower eyelid (working with collagen flakes and tape)
 • Choosing the right type of eyelashes
 • Correct dosage of adhesive
 • Learning to stick eyelashes
 • Learning to draw maps properly
 • Exercises on a training head and a sponge
 • Performing the full application of eyelashes on the model under the supervision of the
instructor and assistant.

ADDITIONAL ISSUES TO BE ADDRESSED DURING THE TRAINING
 • Marketing
 • Photos and presentation of your work

 THE PRICE OF THE TRAINING INCLUDES
 • Training script
 • 2 Certificates
 • Products used during exercise
 • Providing a model for exercise
 • Meal, snacks and drinks during training
 • Post-training care